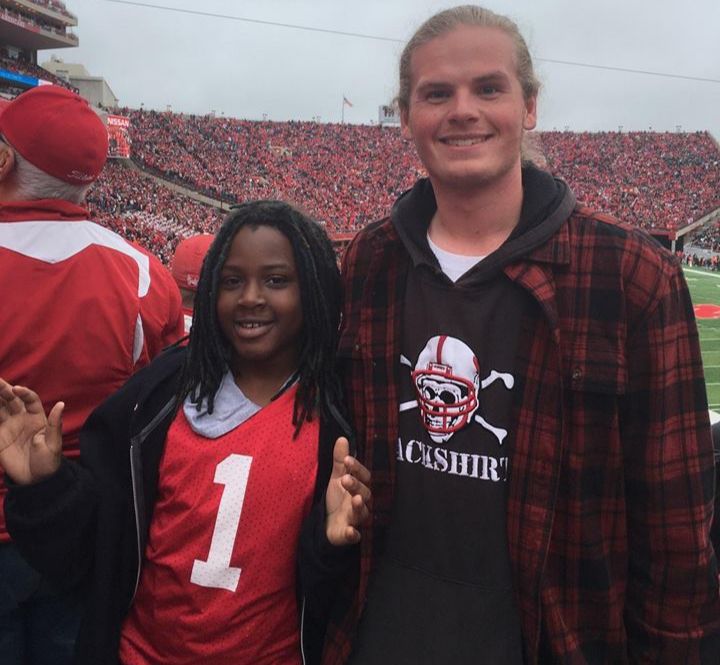 A little over a year ago, I decided to become a Big for BBBS Lincoln (a decision that I consider to be one of the best of my life). I signed up for the program and within a month I was matched with Jeremiah, an 11-year-old who was in the program because he was on diversion for stealing a bike with his friend. When we first met, I could sense that he wanted nothing to do with me. He would only answer my questions with a single word and didn't ask me a question beside, "What are we doing today?" When I answered him with, "Playing football at a park," his eyes lit up and he started going on and on about how badly he wanted to be a football player when he grows up. That was the first of many bonding moments we shared. 
Over the next several weeks, I started to gain his trust as we got ice cream, watched movies, and listened to music in my car. We made a secret handshake that we did whenever we would say goodbye and he reintroduced me to the game of "slug bug" while driving (something I have yet to beat him at). I was having such an amazing experience with this young man that I wanted to do more. So I reached out to my match support, Laura, and asked if I could volunteer around the office. She told me about an internship for BBBS Lincoln and I jumped at the opportunity. I started going to the office twice a week just helping out as much as I could with filing, sending out thank you notes, and entering data onto our cloud. It felt like my life was really starting to come together all because of my decision to become a Big. 
It was around this time that my friends, family, and classmates would tell me that I having a huge impact on Jeremiah's life and future, but I would tell them that he was impacting my life just as much, if not more, than I was impacting his. Spending an hour with him a week taught me more about life and what it means to be a man than any other experience I had. It felt like I was getting more out of the relationship than he was which wasn't what I wanted. 
Well, Jeremiah must be able to read minds because during one of our hang outs soon after I started feeling this way he asked for my phone so that he could play a song. I was expecting him to play the usual Top 40 radio hits, so you can imagine my surprise when "You've Got a Friend In Me" by Randy Newman from Toy Story came on. Jeremiah put his arm around me and told me that whenever he hears this song he thinks of me. I couldn't even respond before he was telling me that I was his best friend and that when we first met he didn't want to like me because he was so used to people coming into his life and then leaving as soon as he got attached. 
I will never forget the emotions I felt after he told that. He got rid of all my fears about him not getting enough out of the program and reaffirmed what I knew about Big Brothers Big Sisters and how it changes lives for the better, forever. I want to say thank you for all of your generosity because it allows me to spend time every week with my best friend.
- Keith