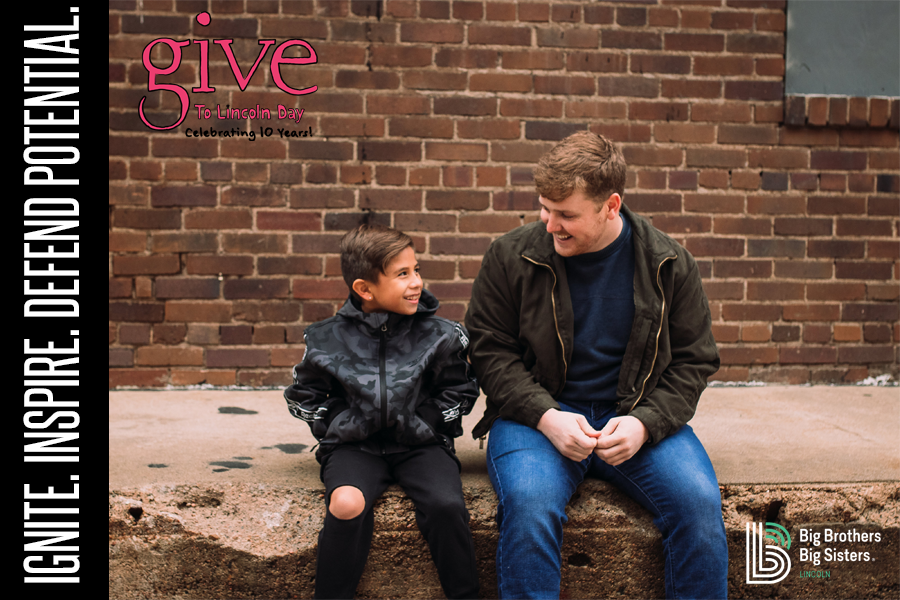 Thanks to our Board of Directors and BBBSL Staff's $7,000 match gift, your donation will go even farther this year to help our youth in Lancaster County. 
At Big Brothers Big Sisters Lincoln we believe that all children and youth deserve to live in a world that makes them feel cared for and protected.
Since 1970 our program at Big Brothers Big Sisters Lincoln has connected at-risk youth Littles with caring adult mentor Bigs to serve and help support children ages 7-16 develop skills to solve problems, make positive choices, thrive through mentorship, and ignite their full potential. 
Please consider Lincoln's vulnerable children in your philanthropic giving - our youth need mentors now more than ever. The friendships created through Big/Little matches have positive effects that last a lifetime.
By providing a consistent, positive influence for Littles as they grow into adults, they have a better chance to thrive and succeed in life, and the chance to become future college graduates, entrepreneurs, and community leaders. Littles in our program show improved academic performance, have better relationships with peers and family, and are less likely to become involved with drugs and alcohol.
Our Give to Lincoln Day goal is to raise $25,000 to empower our local youth to achieve their full potential. Will you help?
With nearly 30 youth currently on our waiting list, your generous donation can help 25 of these youth find their mentor!
From May 1st through May 25th, gifts can be made to participating nonprofits (like us) online at GiveToLincoln.com.  Minimum donation $10.
Give To Lincoln Day is a 24-hour event that encourages everyone to contribute to Lincoln and Lancaster County nonprofit organizations through a single online giving platform on May 25th. Give To Lincoln Day is coordinated by Lincoln Community Foundation, in partnership with local nonprofit organizations.
Every donation makes a bigger impact on Give To Lincoln Day because nonprofits also get a proportional share of a $500,000 match fund.
May 1 – Giving starts at 12:00am for online gifts - click here or the Give Today button above to be directed to our giving page.
May 15 - Individual Retirement Account (IRA)

Donors 70 ½ or older may make qualified charitable distributions from their IRA.
Donor must complete IRA form on Toolkits page and submit to LCF by May 15 to show the nonprofit(s) you wish to support.
Donor must also contact IRA administrator to initiate their gift to LCF by May 10.

May 18 – Mail-in donations must be postmarked by May 18 and written to:

Lincoln Community Foundation 215 Centennial Mall S Ste 100 Lincoln, NE 68508.
Checks must be written to Lincoln Community Foundation (LCF). Your nonprofit's name goes in the memo line.

May 20 - Donor Advised Funds (DAFs)

Donor advised funds held at LCF may grant to G2LD nonprofits between April 15-May 20.
$100 minimum gift.
Thank you for considering Lincoln's youth in your philanthropic giving!